Who said being vegan during the holidays has to be hard? There are so many recipes out there, from main dishes to sides to desserts, you really don't have to worry about creating a Christmas feast or making sure you have at least one thing to contribute to the holiday dinner.
You can veganize just about all of your old holiday favorites, whether it's a traditionally meaty main or milk- or egg-based dessert. To help you out, I've compiled a list of some of my favorite recipes that I've made for holidays in the past or dishes that I'm looking forward to making in the future. None of these recipes are mine, of course – I wish I was that talented! – and I won't even pretend.
Appetizers
Coley Cooks' Chickpea + Veggie Fritters
I've never been really sure what a "fritter" is – I think in my mind, they're more circular, like a patty. These fritters from Coley Cooks are more like sticks. But really, does the name matter? Whatever they are, they're delicious! Packed with protein from chickpea flour, they're also full of flavor. And really, you can customize the taste however you want.
Plant Power Couple's Carrot Dogs in a Blanket
I can't vouch for these, but they look delicious! I've been wanting to try carrot dogs for a long time, and I think Christmas will be the perfect time to try them out! Because of the carrots, these are, of course, much more healthier than pigs in a blanket…and a lot less gross!
Main Dishes
Choose Veg/Mercy For Animals' Homemade Vegan Roast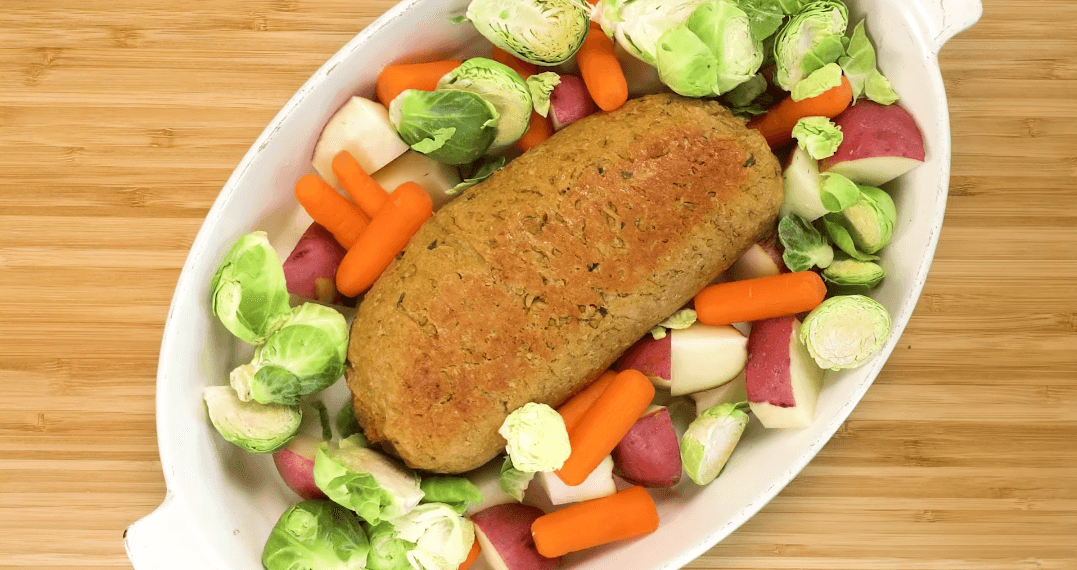 This is my favorite dish to make over the holidays, even when I don't have the exact ingredients the recipe calls for. My husband enjoys, my mom enjoys it, I enjoy it. These are the only people whose food opinion really matters to me, so that's a win if you ask me!
Delicious Everyday's Vegan Mushroom Wellington
I've never had any type of Wellington – I think it's a British thing? – but honestly, looking at this dish, I'm wondering why it isn't a staple in the United States! It appears delightfully carb-filled, which is honestly my thing.
Sides
Minimalist Baker's The Best Damn Vegan Mashed Potatoes
I don't follow Minimalist Baker on social media anymore because I don't want to see non-vegan recipes on my feed, but that doesn't mean the site doesn't still have good vegan recipes! I've made these mashed potatoes for the past few holidays, and they've been a hit each time. I never mash them though…my husband has more arm strength and does a much better job.
Eat Spin Run Repeat's Fancy Schmancy Herb Roasted Root Vegetables
Okay, full disclosure: I don't like vegetables. Is that weird for a vegan? I told someone that at a holiday dinner, and they were…shocked, to say the least. But love of vegetables isn't why I went vegan! I stick to the same ones – peas, broccoli, and carrots mostly – and have little desire to eat any others. But this dish looks delightful! And looking at the ingredient list, I can tell that this dish is packed with flavor…it might even make me like some more vegetables! (Also, maybe I just like the term "fancy schmancy"…)
Desserts
It Doesn't Taste Like Chicken's Sugar Cookies
I love Sam from It Doesn't Taste Like Chicken. She's so fun and personable, and her recipes are amazing. Her sugar cookies are no different. I'm horrible at decorating with icing, but you know what? It doesn't matter! The icing and cookie combination is so good, who cares how it looks?
Vegan Huggs' Vegan Chocolate Peppermint Cupcakes
Aren't cupcakes just delightful? I'll admit: I'm not a fan of the whole chocolate-mint combo, but there's something about Christmas that makes this flavor pairing seem right. And who doesn't love cupcakes? This recipe contains simple ingredients and appears very easy to follow. Don't worry about perfecting the frosting's appearance: no one will even notice with how tasty it is!
Drinks
The Hidden Veggies' Homemade Vegan Eggnog
I've never had non-vegan eggnog, but I've bought the vegan version before and found it to be too sweet. I think I might like the homemade version because I can control the ingredients and sweetness level. And don't homemade dishes and drinks always taste better anyway? The Hidden Veggies' recipe contains simple ingredients that you probably already have on hand. Just blend them up and you're good to go! No soaking cashews or anything like that required.
V Nutrition and Wellness's Gingerbread Hot Chocolate
Who doesn't love hot chocolate? It's the perfect cold weather drink, and it's easy to make this classic drink just a bit more festive. Add in some ginger and nutmeg, and you've got yourself a delightfully Christmas-y drink. Make a mug, plop some vegan marshmallows in, put on some holiday movies, and have yourself a merry little Christmas.
What's your favorite recipe to make for the holidays? Do you make an entire vegan spread or do you just contribute a few recipes here and there?